Product Description
ASY-CONT-300-8 is a motion controller capable of displaying up to 8 axes and is specially designed to control up to 127 axes when grouped into different configurations in a typical antenna or RCS measurement system for accurate antenna and RCS measurements
The ASY-CONT family of controllers form the core of a distributed control system, where each positioner has its own drive. ASYSOL controllers provide flexibility and support for a variety of motors and position feedback systems. Depending on the requirements, servo, stepper, DC, AC or linear motors of any power level may be used. A variety of incremental and absolute encoders as well as dual loop control are supported.
Remote system diagnostics are supported online and by Ethernet connection.
Full control can be obtained using the front panel, a PC, laptop or tablet.
Options:

Simultaneous movement of two or more axes
Correction tables can be included to improve the positioning accuracy of axes
Request
ASY-CONT-300-8 uses, as a local control unit (LCU), ASYLCU-1000 module which is a WIFI based portable hand-held unit (tablet) connected to the ASYCONT-300-8 controller to allow remote operation of the system.
The ASYLCU-1000 incorporates a friendly interface for selecting up to 8 axes. The unit shows the active axes limit indication, allowing the operator to vary the speed and the direction of the axis movement. It also has the option to select coarse or fine movement.
When ASYLCU-1000 is activated, the control panel of the ASYCONT-300-8 control is disabled for safety reasons. The ASYLCU-1000 can operate in position mode (identical to those in the controller) or in manual mode. The rest of the specifications are the same as for the ASYCONT-300-8.
or the manual mode, ASYLCU-1000 allows to select the axis and speed (coarse, fine and very slow) while with the cursor controls forward and reverse movements with higher or lower speed. The ASYLCU-1000 works via WIFI to an access point placed inside the anechoic chamber.
Full control can be obtained using the front panel, a PC, laptop or tablet.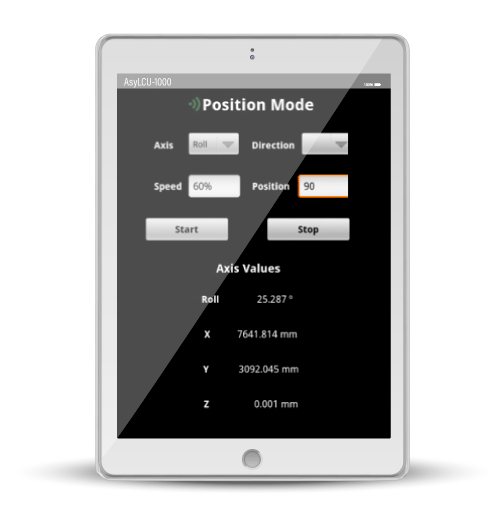 ASY-CONT-300-8 Specifications
SYSTEM PROPERTIES
Remote control
PC, laptop or tablet
External Interfaces
Ethernet, CAN bus or USB
Digital Outputs
7 (24VDC or TTL) + 1 (TTL)
Fast Digital Outputs (RT, Trigger)
0
Fast Digital Inputs (RT)
0
User Units
mm or deg
Angular format
Degrees. 3-decimal
Max. Number of Axes
8 per configuration (127 in total)
ELECTRICAL CHARACTERISTICS
Voltage
220 V
Frequency
50-60 Hz
Current
10 A
OPERATING CONDITIONS
Storage
-10° to +70°
Operation
0° to +50°
DIMENSIONS
Width
500 mm
Height
267 mm
Depth
483 mm
Weight
12 kg
Summary of Features

Based upon a modular architecture for ease of maintenance
Real-time distributed control system for motion and RF control
Fully compatible with ASYPOS positioner series and ASYSCAN scanner series
Communication bus: CANOpen
Manual control from the display
Supports a variety of motors and feedback systems
Supports timing of RF instruments
Language: English, Spanish and French
Serviceable and upgradable firmware remotely or by USB, subject to your PC running the necessary LAN development environment
Position mode: command an axis to achieve a precise position
Swept mode: command an axis to move at a constant velocity between two predefined points generating TTL pulses at periodic points
Manual mode: move an axis with the manual potentiometer located on the front of the controller
*ASYSOL reserves the right to make changes at any time to the specification of the Products, provided such changes do not materially affect the installation or performance